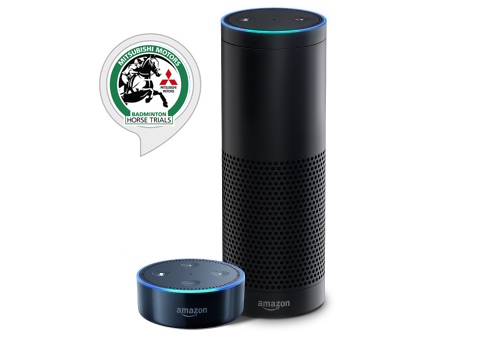 Alexa, ask Badminton what time Michael Jung is due on cross country, I don't want to miss that!
We've joined the 'voice first' revolution and taught Amazon's Alexa all about Badminton!
You may have seen the recent ads on TV for the new Amazon Echo with built in virtual assistant called Alexa, a voice enabled device that sits in your home helping with everyday tasks and finding information, much like Siri on your iPhone.
Now you can ask Alexa all about this year's Mitsubishi Motors Badminton Horse Trials and get access to live results, timetables, and even the cross country fence analysis. Alexa can also tell you all about onsite facilities, 'what's on', ticket prices, travel information and a whole lot more.
Built in a conversational style Echo users can now ask Alexa a variety of questions,  thus providing easy access to everything you want to know about Badminton. Alexa is even smart enough to know when you ask about "Zara Phillips" you mean Zara Tindall. She's also clued up about a host of eventing terms like " the trot-up"  refers to the horse inspections.
Here's just some of things you can ask (with 2016 questions!):
What was Izzy Taylor's dressage score?
When is Michael Jung's dressage test?
Did Star Witness pass the trot up?
How did Chris Burton do today?
What time is Andrew Nicholson on cross country?
Give me the result for number 53?
Who's in the lead?
What happened at the lake fence?
How long will it take me to drive from London to Badminton?
Can I bring my dog?
How much is it to watch cross country?
When is Badminton on TV?
For more information see our Alexa Skill page.