Day Trips By Coach
Cross Country Day
Ticket information and prices included below are from the 2020 event. We will update the 2021 information here shortly.
Why not take the strain out of your visit and let someone else do the driving on the Saturday of Badminton Horse Trials? Coaches leave early on Saturday 9th May 2020, stopping at pick-up points en route to Badminton and leave to make the return journey at 6.00pm at the end of the day. Return travel tickets which include your entry to the Event, are affordably priced at £45.00 per adult. Children 12 years and younger travel for £12.00 and infants under 24 months, not requiring a seat but must be booked, travel free.
Collection routes including pick up points are as follows: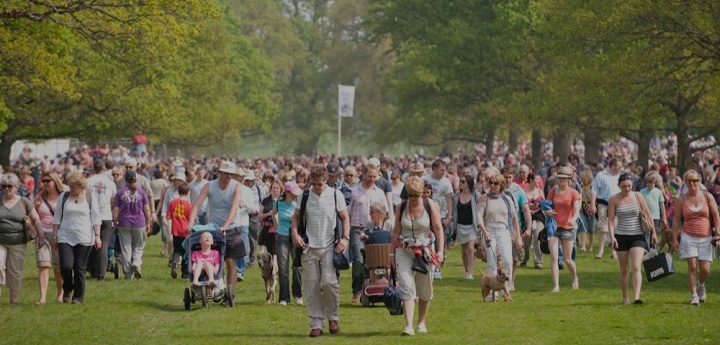 If you would like to organise your own coach trip to the event please see below for admission costs.
Organising Your Own Coach Trip
IF YOU ARE COACH COMPANY, ORGANISING A COACH TRIP. COACHES (25 Seater Plus) will be directed to the Coach Park. A Vehicle pass for the Coach and personal admission ticket will be required for all occupants. (No charge for coach drivers). Children 12 years & under free.
For further information, please contact the Box Office:Tel: +44 (0)1454 218375
Email: boxoffice@badminton-horse.co.uk
Coach Pass
 Up to
31st March
Up to Midnight 2 days
Prior
 2 days prior & on Arrival
Wednesday 6th May
£10
 £12   (up to midnight 3rd May)
 £15   (Mon 4th – Wed 6th May)
Thursday 7th May
£10
 £12   (up to midnight 4th May)
 £15   (Tue 5th – Thurs 7th May)
Friday 8th May
£10
 £12   (up to midnight 5th May)
 £15  (Wed 6th May – Fri 8th May)
Saturday 9th May
£10
 £12   (up to midnight 6th May)
 £15   (Thurs 7th May – Saturday 9th May)
Sunday 10th May
£10
 £12   (up to midnight 7th May)
 £15   (Fri 8th May– Sunday 10th May)
Season (whole event)
£30
 £36  (up to midnight 3rd May)
 n/a
Personal Admission
 Up to
31st March
Up to Midnight 2 days
Prior
 2 days prior & on Arrival
Wednesday 6th  May
£10
 £12   (up to midnight 3rd May)
 £14   (Mon 4th  – Wed 6th May)
Thursday 7th May
£18
 £20   (up to midnight 4th May)
 £22   (Tue 5th – Thurs 7th May)
Friday 8th May
£18
 £20   (up to midnight 5th May)
 £22   (Wed 6th – Fri 8th May)
Saturday 9th May
£32
 £34  (up to midnight 6th May)
 £37  (Thurs 7th – Sat 9th May)
Sunday 10th May
£16
 £18   (up to midnight 7th May)
 £20   (Fri 8th – Sun 10th May)
Season (whole event)
£66
 £74  (up to midnight 3rd May)
 n/a