Day Trips By Coach
2018 Cross Country Day
Why not take the strain out of your visit and let someone else do the driving this year? Scheduled coach trips will leave from Bournemouth, Manchester, Nottingham, Swansea, Peterborough, Brighton, Chester and Plymouth early on Saturday 5th May 2018, stopping off at collection points en route to The Mitsubishi Motors Badminton Horse Trials.
Departure from The Mitsubishi Motors Badminton Horse Trials is scheduled at 18.00hrs.  The cost of the trip includes both travel and entry on the day; £40 for adults, children aged 12 years and under travel at a discounted rate of just £10.00.
If you would like to organise your own coach trip to the event please see below for further details.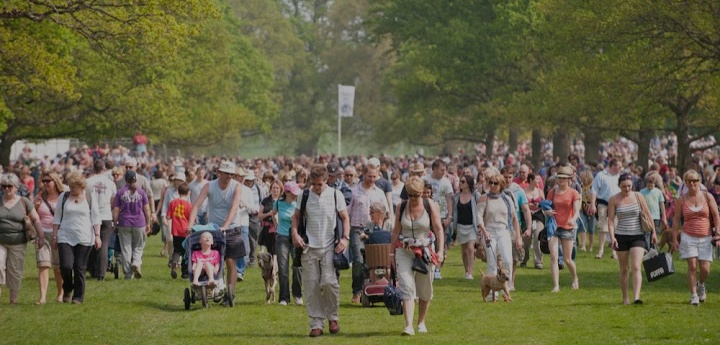 Itinerary from Plymouth
Plymouth Train Station, North Road Plymouth PL4 6AB 05.00
Exeter St Davids Train Station Bonhay Road Exeter EX4 4NT 06.15
Taunton Train Station Station Approach Taunton TA1 1QP 07.20
> Plymouth Adult Tickets
> Plymouth Child Tickets
Itinerary from Brighton
Brighton Train Station Queens Road Brighton BN1 3XP 05.30
Beaconsfield Services M40 J2, Windsor Road,Beaconsfield, HP9 2SE 07.30
> Brighton Adult Tickets
> Brighton Child Tickets
Itinerary from Chester
Chester Services M56, Cheshire, CH2 4QZ 05.30
Dobbies Garden Centre, Hereford Road, Shrewsbury SY3 0DA 06.50
Telford Services M54, Shropshire, TF11 8TG 07.20
> Chester Adult Tickets 
> Chester Child Tickets
Itinerary from Swansea
Central Swansea Train Station, High Street, Swansea SA1 1NU 07.00
Bridgend Train station Bridgend CF31 1BB 07.40 
Newport Train Station High Street Newport Gwent NP20 4AX 08.25
Severn View Services M48 BS35 4BH 09.00
> Swansea Adult Tickets
> Swansea Child Tickets
Itinerary from Manchester
Novotel Manchester West Hotel, Manchester M28 2YA 05.15
Sandbach Services M6 between junctions J16-17, CW11 2FZ 06.30
Premier Inn Worcester (M5,Jct6) Hotel, Worcester WR4 9FA 08.00
> Manchester Adult Tickets
> Manchester Child Tickets
Itinerary from Nottingham
Trowell Services M1, Nottinghamshire, NG9 3PL 05.55
Leicester Forest East Services M1, Leicester, LE3 3GB 06.40
Stratford-upon-Avon Parkway station, Stratford-upon-Avon, CV37 9QY 07.30
> Nottingham Adult Tickets
> Nottingham Child Tickets
Itinerary from Peterbrough
A1M J17 Peterborough Great North Road, Haddon, Peterborough, PE7 3UQ 05.00
Huntingdon Train Station,  Brampton Road, Huntingdon, PE29 3BP 05.30
Bedford Train Station, Ashburnham Road, Bedford, MK40 1DR 06.20
MOTO Service Station Junction 12 M1 Service Station, Dunstable LU5 6HR 07.10
> Peterborough Adult Tickets 
> Peterborough Child  Tickets
Itinerary from Bournemouth
Bournemouth station, Holdenhurst Road, Bournemouth, Dorset, BH8 8HX 06.15
Rownhams Services M27 Southbound, Southampton, Hampshire, Southbound SO16 8AP 07.05
Winchester station, Station Hill, Winchester, Hampshire, SO23 8TJ 07.40
Newbury Racecourse station, Hambridge Road, Newbury, Berkshire, RG14 5ST 08.20
> Bournemouth Adult Tickets
> Bournemouth Child  Tickets
Full terms and conditions are available on the booking site; please click on the links above to find out more.
Organising Your Own Coach Trip

IF YOU ARE COACH COMPANY, ORGANISING A COACH TRIP
COACHES (25 Seater Plus) will be directed to the Coach Park. A Vehicle pass for the Coach and personal admission ticket will be required for all occupants. (No charge for coach drivers). Children 12 years & under free.
| | | | |
| --- | --- | --- | --- |
| Charges in Advance |  Vehicle Pass |  Personal Admission | |
| Wednesday | £10 |  £8 | |
| Thursday | £10 |  £16 | |
| Friday | £10 |  £16 | |
| Saturday | £10 |  £30 | |
| Sunday | £10 |  £14 | |
| Season (whole event) | £30 |  £57 | |
Charges at Gate
(Cash only)

 Vehicle Pass
 Personal Admission
Wednesday
£12
 £10
Thursday
£12
 £18
Friday
£12
 £18
Saturday
£12
 £32
Sunday
£12
 £16
Season (whole event)
n/a
 n/a
For further information, please contact the Box Office:
Tel: +44 (0)1454 218375
Email: boxoffice@badminton-horse.co.uk