This year dressage fans at Badminton can look forward to an exciting parade and display on Thursday 7th May and a further display on Friday 8th May (VE Day) with our all new 'dressage day' line-up in the Main Arena on the dressage days of Badminton Horse Trials.
THURSDAY 7th May
Parade of Champions – 12.30pm (approx.)
The GB Team for Tokyo 2020 are the beneficiaries of this year's Badminton Horse Trials charity (via the BEFF – the British Equestrian Federation Fund). Horses who have brought enormous pride to our country at past Olympics will be paraded in hand; these champions will be led in by none other than the world's leading Dressage star, Valegro – the double Olympic individual Gold medallist in 2012 and 2016.
The Parade of Champions will be followed by:
Laura Bechtolsheimer/Tomlinson (MBE)
Laura has been representing Great Britain since her Pony Days and in the 2012 Olympics, she was part of the Gold Medal Winning Dressage Team and individual Bronze Medallist with her horse Mistral Hojris. She has now produced three future potential medallists (two daughters and one son) – and is back in action with some exciting Olympic horses of the future.
After the Parade of Champions, Laura (below photo) will show off some of her stars of the future, all working at the Grand Prix level, and share her training tips for each horse.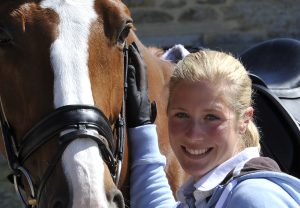 FRIDAY 8th May
Laura Bechtolsheimer/Tomlinson (MBE) – 12.30pm (approx.)
'Dressage to Music' or Freestyle as it is officially called has elevated the sport to heights previously unknown.  Laura will ride one of her top Grand Prix horses and explain the movements required and the additions to each movement in the pursuit of maximum marks.
Producing music tapes for this level is done by a few top professionals around the world – not only taking in the paces and rhythm of the horse, but also the music is matched to the personality of the horse and rider.  This session will be a real eyeopener.
Dressage on Badminton Radio
Top level dressage presence also runs over the airwaves via Horseware Badminton Radio on the dressage days this year for the first time with international dressage rider and coach Anna Ross who will be joining Peter Storr in the radio commentary box during the dressage tests of the international 5* eventing competition.
Peter commented: "Badminton is always a special place with the best in the world competing there – I am delighted to be working with Anna."
Anna (below) said: "I'm looking forward to joining the team at Badminton Radio and to bringing the action live from the dressage arena to spectators and listeners alike."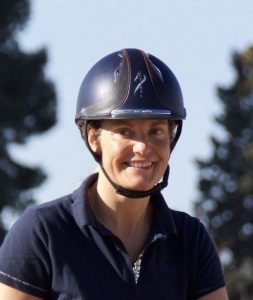 Follow Badminton's Dressage action
If you are one of our many overseas followers or can't visit us this time, don't panic – you will able to follow all the dressage action including the lunch time demonstrations and parades via our livestream with plenty of expert commentary on:
Horseware Badminton Radio online streaming service
Badminton livestream
Badminton's social media channels
Guest web blogs, photo galleries and interviews on our website
We will be announcing our full Badminton Radio commentary team line up in the coming weeks so please watch this space.
Tickets
Find out  how to buy passes to this year's Badminton Horse Trials online by clicking the link below (remember our early bird discounts end on 31 March 2020).