About
Thermatex is a thriving business with over 40 years of experience designing and manufacturing their own unique brand of British made cooler rugs and accessories from their factory on the West coast of Wales.
Thermatex is well known for its technologically advanced knitted fabric, which comprises of an inner and outer layer of woven quilted fabric and a central insulation layer of polypropylene. The fabric is warm and comfortable, light to handle, and has the ability to wick moisture from the inside of the fabric, allowing it to evaporate in to the atmosphere. Our rugs are ideal for use after exercise, during travel or as stable rugs
Aside from the large selection of cooler rugs, Thermatex also manufacture other products using their unique fabric including legwraps, bandages, numnahs, saddlecloths, dog coats, dog mats and waistcoats – all British made and available in a huge choice of colours. Visit our website www.thermatex.co.uk to see the full range.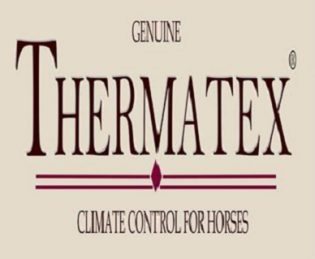 Location at event
Avenue Withybed Way
Stand No. 226
Contact info
01239 614648
3 Parc Teifi Business Park Cardigan North Wales SA43 1EW