Badminton is a tough competition, but I will go there to try to win it!
1 May 2016, Lexington, USA – Michael Jung (GER) riding Fischerrocana FST kept both his cool and overnight lead to secure a back-to-back victory at the 2016 Rolex Kentucky Three Day Event. Jung led the competition from Day One after his near flawless Dressage test and fastest Cross Country ride of the whole day.
Coming into the final Show Jumping phase and last to go into the packed Rolex Stadium, Jung had three fences in hand, but delivered another masterclass round with just one rail down to win the event and set him on course to challenge for the Rolex Grand Slam of Eventing prize here at the Mitsubishi Motors Badminton Horse Trials, having won both the 2015 Burghley Horse Trials and the 2016 Kentucky. Jung is now just one competition away from the coveted USD$350,000 Rolex Grand Slam of Eventing prize.
Speaking after his victory in Kentucky, Jung said, "I am very proud of my horse, she has tried all weekend for me in the dressage, cross-country and now today in the show jumping.  I now travel to Badminton and will meet my other horse there, La Biosthetique Sam. He is in really good form and so I am really looking forward to Badminton."
Of the possibility of taking The Rolex Grand Slam of Eventing, Jung said: "It is a hard challenge as you can see, just one person has won it so far and so it is very special on a very high level. Badminton is a tough competition, it is a hard competition, but I will go there to try to win it!"
Badminton Horse Trials Event Director Hugh Thomas commented: "We are delighted that Michael is coming for a second crack at the Mitsubishi Motors Badminton title which would also gain him the Rolex Grand Slam. In 2013 he led throughout the competition until knocking the very last pole, handing victory to New Zealander Jock Paget."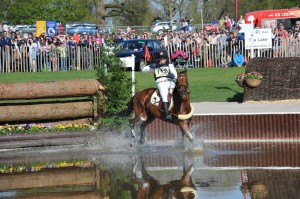 History of the ROLEX GRAND SLAM

In 2001 Rolex was inspired to link the three foremost eventing competitions in the world into a Grand Slam. Badminton – the British horse trials on which  the  modern sport of eventing was founded, Kentucky – the premier US event, and Burghley – the East of England's showpiece event, formed the competition.
Every year these three events attract world class competition and crowds of enthusiastic supporters eager to bear witness to equestrian greatness. It became immediately apparent that, completing the challenge and winning the Rolex Grand Slam of Eventing, would require a series of outstanding performances from a remarkable athlete.
Since its inception in 2001, only one rider has risen to the challenge: Britain's much loved and highly decorated team member, Pippa Funnell. In April 2003 she rode Primmore's Pride to victory at Rolex Kentucky, beginning her Rolex Grand Slam campaign. A week later, this time riding double European champion Supreme Rock, Funnell was crowned Badminton winner. A few months later, Funnell reigned supreme at Burghley, riding Primmore's Pride again, outperforming fellow Rolex Testimonee Zara Phillips, who finished in second place. Pippa Funnell immediately joined the ranks of sporting greats and became a Rolex Testimonee.
Find out who Michael will be competing against at the 2016 Mitsubishi Motors Badminton Horse Trials.
Admission tickets to the event can be purchased at the entrance gates each day of the event, as can car passes, both are cash only. Children 12 and under get free admission to the event – we look forward to seeing you here from 4th – 8th May 2016.