"'Bobby' really deserved that, he was fantastic all the way round. Everything came up really quickly and he wanted to go so fast that it was pure fun," beamed Ingrid.
Video highlights
The Shetland Pony Grand National proved as huge a hit as ever before the main event of the day kicked off. Many more videos from the competition and around the event on our You Tube channel here.
 Facebook
Lots of comment on our Facebook Page from our audience watching around the world. Follow for up to the minute photos, comment and updates.  #MMBHT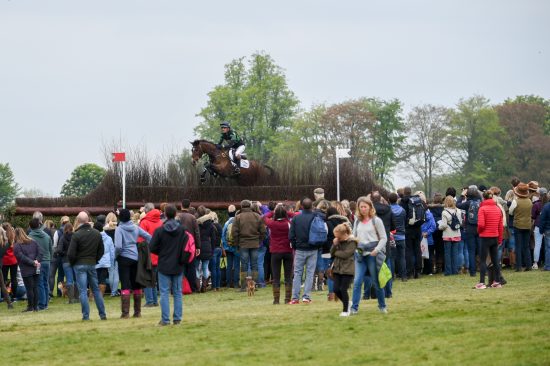 Tom Jackson (GBR) takes a flier with Waltham Fiddlers Find over the Wadworth Lakeside.
Rider soundbites
Listen to rider reactions and interviews from around the event in our Soundcloud page. Below, British Eventing Performance Manager Chris Bartle talks to Rupert Bell about his plans for the team.
 Instagram
Alex Bragg has a fantastic first time Badminton; see more behind the scenes photos here