It was a pillar to post win for BE100 Champion, Alana Sparrow and Mr Rasshied Din's Angels Spirit, with Laura Greenhalgh taking the BE90 Championship on Sarah Reeve's Stanhopes Travelling Man.
BE100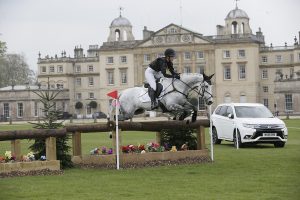 The 2019 competition is Laura and Stanhope Travelling Man's third visit to the Mitsubishi Motors Cup. Having first competed here in 2016, they qualified again for the 2018 champions and finished in 11th place; riding Sarah Reeve's 14 year old British bred gelding, the duo showed all their experience this year to finish on their dressage score of 24.3 penalties.
On her experience, Laura said; "He does get fairly good dressage marks, but I never expect anything, I just hope it goes well! I was thrilled with that score; he hasn't actually done any events since he qualified last year – so I'm really happy with that score. I try and leave absolutely no stone unturned, I'm probably quite intense in my preparations. Last year he had an unfortunate four faults in the show jumping, I had a few last minute tips this year and it just all came together today!"
After winning her BE90 Regional Final at Dauntsey Park last year, Georgie Toole couldn't have asked for a much better debut here at the Mitsubishi Motors Cup, placing second on Kissemmie Midnight Magic. Georgie and her 14 year old gelding added nothing to their dressage score of 25.9 penalties.
"I was very happy with 25, he normally gets around 27 so I was really, really pleased. I think we were all very nervous walking it [the cross country], there were definitely a lot of tricky things on the course. He was really good, he was definitely very excited in the warm up so I was a bit apprehensive beforehand. It's been amazing opportunity and an honour," said Georgie.
Emma Sutton from Dinas Powys, Vale of Glamorgan, makes up the top three after a double clear on her own 14 year old gelding Coltstown Glider, completing on her dressage score of 26.2 penalties. 24 year old Emma said; "I felt quite nervous, I was trying to stay relaxed and stay cool!" and on the experience; "100%, it was amazing!"
Rob Lindley, Managing Director of Mitsubishi Motors UK, added; "Congratulations to the winners of the 2019 Mitsubishi Motors Cup and to all those who have taken part in the competition. To be able to ride competitively across the same Badminton estate as the world's top class event riders is a truly unique opportunity and we hope that everyone has enjoyed the experience."
Thanks to the generous Mitsubishi Motors sponsorship, each winner will take home a car from the Mitsubishi Motors range for a year, along with a winner's rug from Horseware Ireland and prize money; the top twenty each receive prize money and a rosette.
The highest place rider aged over 40 will be presented with the Keep Kicking On trophy and thanks to the support of Shearwater Insurance Services, the highest placed Event Horse Owners Association member in each class receives a Silver Salver, jacket and prize money.
Pictured above: Laura Greenhaulgh and Stanhope Travelling Man (photograph by Goldeneye)
> Watch interviews with the top three riders from our #ChatZoneMMBHT
Full list of results