World Horse Welfare is now offering the chance to own fourteen truly unique pieces of equestrian art as bidding opens for its stunning Invisible Horse Sculptures which featured at the Mitsubishi Motors Badminton Horse Trials earlier this year (4 – 8 May 2016).
Designed, adorned and painted by renowned artists and personalities, each of the fourteen stunning sculptures told the story of a horse rescued by World Horse Welfare. From the 'rock-star' horse Dippy imagined by celebrated hat designer, David Shilling (above), to the decadent gold leaf of Cambodian working horse Mesor crafted by artist, Katie O'Sullivan, the eye-catching florals of Shetland pony Blossom decorated by fashion designer, Julian Seaman (below image) and the jockey silk emblazoned youngster Dash created by racehorse trainer, Jamie Osborne – each horse is a completely original and hand painted design.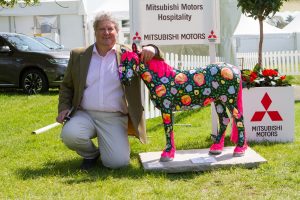 Each sculpture stands at around 7hh (71cm) high and is made from fibreglass, created from a stunning clay maquette which was sculpted by Judy Boyt. In addition to sculpting The Mitsubishi Motors Badminton Horse Trials trophy, Judy Boyt has exhibited all over the world and her work is held in many private collections from the Royal Family to the Duke of Roxburghe and actress, Jane Seymour. In order to create the maquette, Judy chose World Horse Welfare Adoption horse, May, as her muse and live-sculpted her at the charity's Glenda Spooner Farm Rescue and Rehoming Centre in Somerset.
As part of World Horse Welfare's Charity of the Year status at Badminton Horse Trials, the completed sculptures were then positioned around the event with adults and children alike captivated by the quest to find all fourteen and complete the trail.
All the artists and designers involved in the Invisible Horse Trail donated their time and creativity free of charge. Money raised from the auction of the horse sculptures will help to support World Horse Welfare in improving the lives of horses in the UK and around the world.
The online auction closes on 3rd November and these bids will be fed into a live auction (invite only) on 4th November at the BT Tower with auctioneer and racing presenter, Mike Cattermole. You can also submit a maximum bid to bid on your behalf. Top bidders will be notified on 7th November and delivery will be arranged at the bidder's expense.
Visit the online auction site.
View the Invisible Trail here: http://www.worldhorsewelfare.org/the-invisible-horse-trail
About our official 2016 event charity
World Horse Welfare has named 2016 the year to highlight the world's invisible horses who often suffer in silence as people either cannot or choose not to see them. From the horses left in barns and stables for weeks on end, to those working many hours every day on the streets of Choluteca in Honduras or Cape Town in South Africa who go unnoticed by governments and policymakers, to the horses transported long distances across borders to uncertain futures and those who sadly are sometimes found too late. World Horse Welfare will be focussing on a number of key themes as the year progresses including; foals, rescue and rehoming, working horses around the world and campaigning to improve laws to protect horses.