Event Mobility are the official charity of the 2017 Mitsubishi Motors Badminton Horse Trials – it is a registered charity, established in 1998 to provide access to shows and events for the disabled, elderly and mobility impaired through the short term loan of electric scooters and manual wheelchairs.
The charity was the brain child of the founder, Bryan Lupton, who when diagnosed with MS could no longer enjoy walking the cross-country course at Badminton Horse Trials. With the use of a loaned mobility scooter he was, once again, able to enjoy the event like before.  He decided this facility should be available at events throughout the country. As a result, with the help of Jeremy Soper, Event Mobility was born and in March 1999, became a registered charity (No. 1074608).
By the end of the 2016 season Event Mobility attended 78 shows and assisted over 5,000 people. The charity now has four 40' trailers and one 7.5 ton lorry with a fleet of 300 mobility scooters and 100 manual wheelchairs.
What the Charity do
There are over 10 million disabled people in the UK, and many thousands more are elderly and suffer from impaired mobility, restricting their quality of life. Many families are directly or indirectly affected by disability alone. Event Mobility helps the whole family enjoy a day out. Only the mobility impaired can appreciate the elation of being free and able to participate in occasions that were previously taken for granted.  Event Mobility helps them realise this wish.
Event Mobility at Badminton
John Cohen from Event Mobility commented: "Event Mobility has provided this invaluable service to Badminton since the charity's inception and was delighted to be named Mitsubishi Motors Badminton Horse Trial's charity of the year for 2017.  As a small charity like us an amazing opportunity to spread our message and showcase our work to a big audience who won't necessarily be aware of the work we do."
Hugh Thomas, Badminton's Event Director said: "Event Mobility has provided a wonderful service for our disabled visitors for many years and it is thrilling to be able to help promote the charity. We are very committed to meeting the serious challenge of making a large outdoor event in natural countryside as accessible as possible to all"
Project 18
The team behind Event Mobility have decided to use the opportunity at Badminton to raise money for an 18 ton lorry to help us help more people at more events.  As a charity one of the key issues they face every day is how to minimise the cost of their operation so it does not impact on their ability to provide their service wherever it is required.
They currently have a 7.5 ton lorry which allows them to transport up to 30 scooters and manual wheelchairs to and from shows nationwide themselves. Before, their only option was to employ a transport company at a considerable cost.   This is known as 'Project 18' and the charity are hoping to raise £45,000 to enable this
Visit the Event Mobility Stand at Badminton
The aim of the Event Mobility stand is to raise awareness of their small charity, demonstrating the work we do, and what happens behind the scenes in order to do so,, and where their donations are spent.  There's a chance to win a brand new mobility scooter worth £4,000 kindly donated by TGA Mobility.
Visit the Event Mobility stand 93 to donate to Project 18.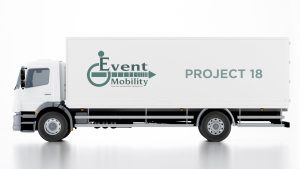 Looking forward to the Project 18 Silent Auction
Many of the supporters and sponsors of Mitsubishi Motors Badminton Horse Trials have kindly donated money can't buy packages which the charity are auctioning off immediately after Badminton.  Prizes include a stable tour at 2018's BHT and a lesson from UKs Eventing's Team Manager Dickie Waygood
For further information visit www.eventmobility.org.uk or contact Sheena Beames in the first instance via email info@eventmobility.org.uk or 01386 725391.
Hear from about the charity direct from two of the Event Mobility Volunteers: