Accommodation
In & around South Glos
One day is never enough! Why not extend your stay to make the most out of your visit? A wide range of accommodation is available in the local area around Badminton to suit all tastes and budgets. It does get booked up early so be sure to plan your stay as far in advance as you can to ensure availability. These lists will be updated regularly to reflect any changes or additions that we are made aware of. Please note that the businesses listed here are run independently of Badminton and their inclusion is not an endorsement.
Hotels, B&B, Self Catering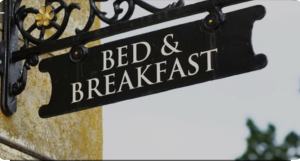 Click here to see a list of B&B accommodation in and around the local area of Badminton.
Click here to see a list of Hotels in the area.
Devere Tortworth Court Hotel

The Devere Tortworth Court Hotel is the official Hotel of Badminton Horse Trials, located in Wotton-under-Edge. To find out further information about the hotel please click here.
Eventing Experiences with Racing Breaks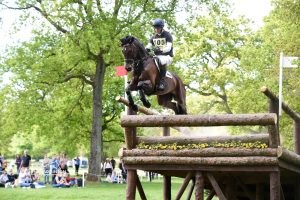 The Badminton experience with accommodation, tickets & transfers.
Join Eventing Breaks in a selected hotel, within 30 minutes of Badminton, with packages including accommodation, tickets to the event and transfers on each day that you attend.
For more information, please visit their website or call 0800 1936646
Caravan & Motorhome Hire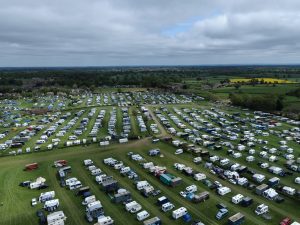 Stay on-site for the ultimate Badminton experience by bringing your own caravan or tent… or save yourself the hassle and have one sent round! The following companies can be contacted for details on caravan hire. Please note that you would also need to book your pitch on the Campsite via the Badminton Box Office.  Please check that we have pitches available before committing to hire your accommodation unit.
Caravan Hire Ltd: Tel: 07960 403519 – Email: info@caravanhireltd.co.uk
Kingswood Caravans: 0117 960 0205
Tilshead Caravans: 01980 863636
Complete Caravan Services – Tel: 01869 351406 – Email: admin@completecaravans.com
Herald Caravans: 01963 351513
Blackmore Vale Leisure – Tel: 01747 851497 Email: info@bmvcaravans.co.uk
Coachstar RVs – American Motorhomes & Winnebagos – Tel: 0207 112 1578 Email: david@coachstar-rv.co.uk
E & L Caravan Hire: Tel: 01386 793 287 – Mobile: 07885 325382 – Email: louise@caravanhireworcs.co.uk
A. Chinnock Caravan Hire – Tel: 07980 967712 Email: achinnock_caravan_hire@hotmail.co.uk
Funky B Motorhomes – Tel: 0117 230 6230
Country to Coast Caravan Hire – Tel: 07971 714144
Camping
Glamping
If you love staying in the great outdoors you might also want to check out The Badminton Retreat: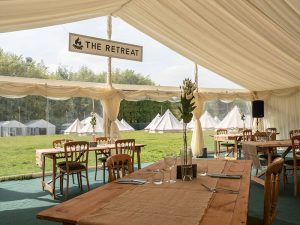 The Badminton Retreat – the official provider of luxury glamping at Badminton. The glamping site will be located in the heart of the action by Huntsmans Close on the cross country course with stunning views across the parkland of the Duke of Beaufort's Badminton Estate.  The exclusive glamping site will provide tastefully furnished deluxe Safari tents and traditional canvass bell tents and will also offer an onsite Retreat restaurant and bar, chill out area with hot and cold tubs, top of the range showers and toilets and a Pamper room and much more.  See their website for full details and to book online.  Email: info@badmintonretreat.co.uk – Tel: 01454 740182 / 01225 220032 – www.badmintonretreat.co.uk