Stallion Parade
by Sport Horse Breeding of Great Britain
Sport Horse Breeding (GB) is privileged to be show-casing some of its graded stallions at The Mitsubishi Motors Badminton Horse Trials. The SHB(GB) parade takes place in the main arena immediately after the end of dressage on Friday 3rd May. Details of the stallions for 2019 will be listed as soon as known.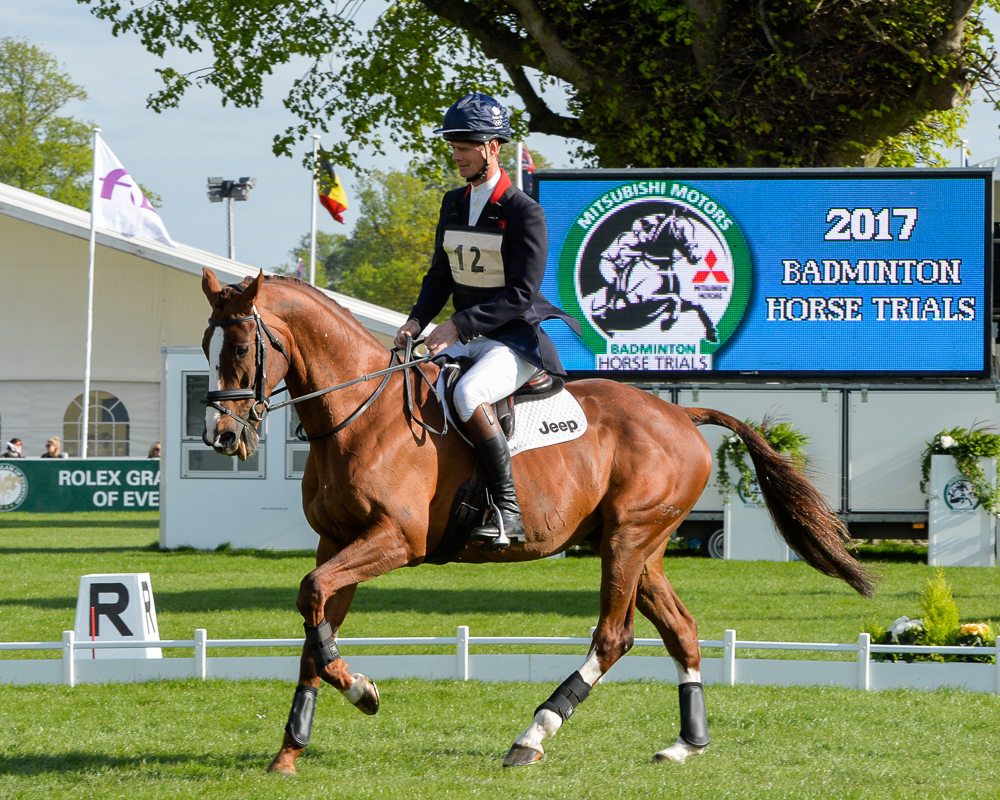 Pictured: Chilli Morning in the Stallion Parade, Badminton 2017 Photo: MMBHT Trevor Meeks
Stallions that paraded in 2018.
Jaguar Mail 1997 (Hand in Glove xx-Laudanum xx) This three-quarter-bred former Olympic showjumper is the number two sire in the World Breeding Federation for Sport Horses (WBFSH) eventing sire rankings.
Chilli Morning 2000 (Phantomic xx-Kolibri) The 2015 winner of Badminton with William Fox-Pitt also competed at the Rio Olympic Games in 2016 and now has winning progeny.
Party Trick 2012 (Chilli Morning-Tolan R) Bred by his owner/rider Nick Gauntlett FBHS, he was champion of the 2016 SHB(GB) spring grading and was 3rd in the Burghley Young Event Horse final.
A Moment in Time 2013 (Wish upon a Star-Jumbo). Bred by owner Carolyn Bates this five-year-old has the bloodlines of two champion stallions and was Champion of the SHB(GB) 2017 spring grading.
Tiger Attack 2012 (Dolphin Supreme AA -The Outlaw) Bred by owners Joanne and William Moran this six-year-old is a winner in dressage and eventing, has qualified for this year's Mitsubishi Motors Cup and bred young stock champions.
Britannia's Mail 2008 (Jaguar Mail-Jumbo). A son of Jaguar Mail out of the former Badminton winner Headley Britannia by Jumbo bred by Lucinda Fredericks. 'Marley finished last season at two-star level.
Sir Shutterfly 2002 (Silvio I-Forrest) A full brother to the internationally successful showjumper Shutterfly ridden by Meredith Michaels-Beerbaum.
NPS Supernova 2012 (Casall-Carthago) New Priory Stud's six-year-old has jumping in his blood being a son of the world class champion Casall out of a mare by Carthago.
KL Mac 2011 (Larduc-Graf Quidam) – brings the jumping lines of the famous stallion Quidam de Revel. Has been competing in dressage and is a regional novice champion and qualified for summer and winter championships.
Timolin 2011 (Totilas-Sion) The British-bred son of dressage star Totilas was Champion of his SHB(GB) grading, is a champion in the show ring, and is winning in dressage and eventing and siring young stock winners.
Glencarrig Dolphin 2010 (Coosheen Stormboy-Coral Star) – this popular Connemara stallion has been placed in affiliated eventing and showjumping. His first offspring out of sport horse mares have been winners in the show-ring.
Hallmark DS 2010 (West Coast Cavalier-Fourstars Allstar xx) Irish Sport Horse stallion graded in 2015. Now competing in eventing. Has already sired winners in the show ring.
For full details of the Stallions and further information on The Sport Horse Breeding Society:
Contact: 01732 866277  Email: office@sporthorsegb.co.uk   Website: www.sporthorsegb.co.uk