History
A History of Badminton House & Estate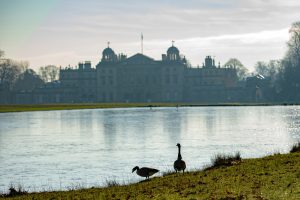 The dukedom of Beaufort was created in 1682, being granted to Henry, 3rd Marquess of Worcester in reward for his service to the Stuart monarchy.
The Manor of Badminton was purchased by the Worcesters in 1608, originally for a younger son of the family. The Estates came back to the main branch of the family in 1655 and in the middle 1660s rebuilding of the old house started. The 1st Duke of Beaufort retrieved the family fortunes which had suffered badly in the civil wars and made Badminton his home.
The house today therefore dates from 17th and 18th centuries. The 1st Duke appears to have been his own architect – spending around £30,000 over 30 years, a vast sum for the time.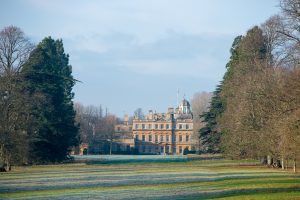 The 3rd Duke (1707 – 1745) remodelled the house again. Architect James Gibbs made some major changes to the East and West wings (which are now as he left them) and then William Kent completed the North front, giving it its Palladian appearance, adding height and emphasis with the unusual pediment and two cupolas.
Badminton House is now the family home of the 12th Duke of Beaufort, Harry Somerset who has always taken an active role in the event. His Grace's father, David, who passed away in August 2017, was President of the Horse Trials and was himself a very successful rider in the sport, being placed second here in 1959.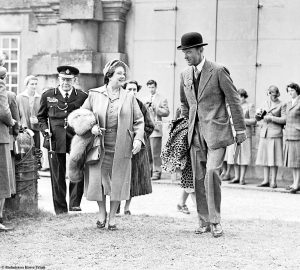 The Queen Mother & Duke of Beaufort in 1954
For further information about the Badminton Estate, including news on other events, open gardens and venue hire, please visit there website. www.badmintonestate.com