Getting Here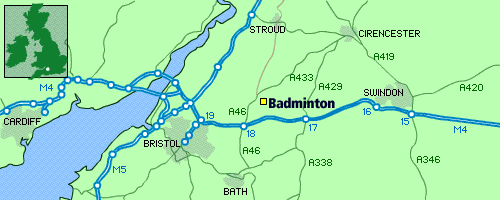 Badminton is situated about 100 miles west of London and some 15 miles from Bristol and Bath.  Please follow appropriate AA Signage from Stroud, Cirencester, Chippenham or the M4  J15, J17 and J18.
Travel Tips To Plan Your Journey
All 2022 tickets must be purchased in advance – up until midnight the night before you wish to visit – please do not travel to the event without pre-paid tickets as there will be no sales on the gate.
Only use your Satnav device until you pick up AA signage and follow signs to Public Parking accordingly as Satnav can take no account of Badminton's traffic management plan.
Listen to Radio Badminton traffic reports (frequency 87.7FM) and monitor Badminton website and social media handles for traffic updates.
Follow directions of traffic management stewards.
Place your car pass in the front window of your vehicle for easy scanning.
Scanning of car pass also identifies personal admission tickets purchased on same booking. (i.e there is not a requirement to scan each personal admission ticket).
Airports
Birmingham Airport is approximately 1 hour 30 mins (125km) from Badminton. Click here for information on Birmingham Airport.
Cardiff Airport is approximately 1 hour 10 mins (104km) from Badminton. Click here for more information on Cardiff Airport.
Bristol Parkway Taxis are available from Bristol Airport – Tel: 0117 254 1111 or 0800 6190047
We would recommend hiring a car if you do not have your own transport as public transport to the event is extremely limited.
The following company can provide quotes on car hire: Cheaperthancars.co.uk
Aircraft
See Air Traffic Details for more information.
Prior to departure, a telephone call from all visiting aircraft is mandatory – Airfield Office: 01454 218333 –
(During Event – Airfield Tel. No. 01454 218888)
Trains
The nearest British Rail station is at Chippenham. Coaches will meet specified trains at Chippenham Station on Saturday 7th May. For further details and bookings please contact Andy Bus & Coach Ltd. – Tel: + 44 (0) 1666 825655, email:ajcoaches@andrew-james.co.uk For further train information – telephone National Rail Enquiries: 03457 484950. (There are also stations at Bristol, Bath, Stroud, Swindon and Kemble, all with station taxis).
Bus Service
There is a very limited bus service in the Badminton area – for further details contact Coach Style Limited – Tel: 01249 782224.
Taxi Hire
Shirley's Private Hire Tel: 01454 321975
Chipping Sodbury Taxis: Tel: 07891 190984
The Pink Cab: Tel: 079 6003 6003
Webbs Taxis: Tel: 01249 657777
Abbey Taxis: Tel: 01666 826072
AST Taxis: Tel: 01666 823388
Bristol Parkway Taxis – Tel: 0117 254 1111 or 0800 6190047
Southwest Chauffeur (& Taxi) Hire – Tel: 01179 830 126 or 07763 727132
Tetbury Minibus Company – Tel: 07939 890891
Taxi Drop Off Point
Please note that there will be a one way system in operation in Badminton on Saturday 7th May. Taxis must drop passengers at our 'drop off point' – if they use any other route / point the taxi will not be able to leave until after 1400 hrs! The drop off point is in Badminton Village. Vehicles must approach the 'drop off point' from the south or west and not attempt to get there from the north or through Badminton Park. Please follow the AA signage to the the "Drop Off Point".
Disabled Access
See Disabled for more information.
Coach Travel
Coach Travel – A personal admission ticket will be required for all occupants over the age of 12. All 2022 tickets must be purchased in advance – there will be no gate admission. No charge for coach drivers. There will be a charge for Coach Parking (bookable in advance only) – see tickets for more information
All Coaches to follow appropriate AA Signage.
On Saturday 7th May, all coaches will be parked in the special Coach Park.  This can only be approached from the A46 at Dunkirk cross roads and will be signposted by the AA.  The same approach route must also be used on all other days to avoid a low bridge in Badminton village.
Coach operators please note that coaches cannot leave the site once they have dropped passengers, until they are ready to depart at the end of the day. There will be toilets and refreshment facilities for drivers.