Hospitality
Packages & Locations
See options below for details of our Portcullis Club and Badminton Lakeside Hospitality options.  Also see details regarding hospitality in our Lakeside Pavilions.
All Hospitality Packages are subject to availability.
Fully catered Hospitality Packages are available at The Portcullis Club – subject to availability – Contact Box Office – Tel: 01454 218375 for more details.  Bookings for the Portcullis can only be taken once the Box Office opens in January 2024.
THE PORTCULLIS CLUB (Main Arena)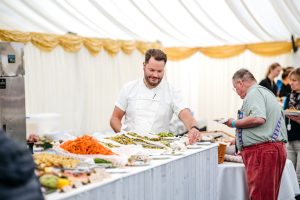 The Portcullis Club is a separate part of the Badminton Members Ringside Enclosure. Patrons will be able to use the facility throughout the day and may book either individual places or tables for 8 guests. While every effort will be made to accommodate requests, exclusive use of tables for fewer than 8 may be asked to share banqueting tables.
Included in the cost are:
1 forward Car Pass per 2 adults
Personal Admission to the Event for 1 person
1 Event Programme per 2 adults
Morning Tea/Coffee with Breakfast Rolls, Pastries
Pre-Luncheon Glass of Wine
3 Course Buffet Luncheon (served 12.30 pm  – 2.30 pm approx.)
Afternoon Tea
There will be a Pay Bar at which account facilities may be arranged
Closed Circuit Television showing continuous action in the competition
Use of the private Members Club Toilets
Garden area adjoining the Main Arena, where the dressage and show jumping take place and where the cross country start and finish is located on Saturday.
Saturday only: option to upgrade to a Cooked English Breakfast at an additional cost of £25.00
Cost per person for 2024 as follows:
PORTCULLIS CLUB CHARGES 2024 – COST PER PERSON (including VAT)
Thursday £138.00
Friday £175.00
Saturday £285.00 (with Cooked English Breakfast upgrade £310.00)
Sunday £205.00
For children 6 – 12 years (inclusive) deduct £15 per person per day.
Unfortunately The Portcullis Club is not appropriate for children under 6 and regrettably no dogs (other than Assistance Dogs) can be admitted at any time.
Note: We strongly recommend that grandstand tickets are also purchased for the Show Jumping & Prizegiving on Sunday.
Dress Code: Smart casual or country wear is appropriate. In particular, sensible walking shoes are strongly recommended!
The Portcullis Club opening times 2024:
Thursday 9th: 9am until one hour after last horse competes in Dressage, 6pm approximately.  Friday 10th: 7.30am until 6pm approximately.
Saturday 11th: 8am until 7pm.  Sunday 12th: 9am until 5pm
For further information, please contact the Box Office:
Tel: +44 (0)1454 218375
Email: boxoffice@badminton-horse.co.uk
The Portcullis Club Booking Conditions: Passes, badges, etc. will be sent out when full payment has been received and cleared. No refund will be made in respect of any cancelled booking. No change of day can be made after booking. Contact Box Office for more information. 
THE FAIRFAX AND FAVOR BADMINTON LAKESIDE 2024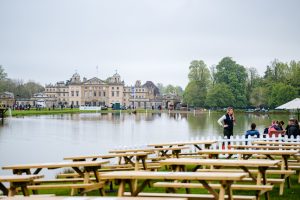 The perfect location to enjoy a wonderful assortment of gourmet food and beverages in the premium surrounds of the iconic Lakeside. Join us to enjoy live screening of all days action and be in a prime location for Saturday's cross country with the best view of the iconic water jump. Stay with us into the evening for live entertainment every night culminating with the party of Badminton on Saturday. Limited reserved tables available for Saturday's cross country and require pre-booking. All other days' tables available on a walk-up basis for your use, a perfect base in close proximity to the shopping village and the main arena.
SATURDAY TABLE BOOKINGS – LAKESIDE GARDEN TABLES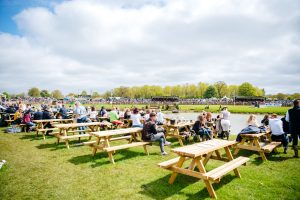 For further information please visit www.badmintonlakeside.co.uk
Please note car passes and admission tickets are not included in the cost of the Lakeside table bookings and must be pre-booked separately through the Badminton Horse Trials Website (no sales on the gate).  Click here to view the ticket prices.
HOSPITALITY SITES 
For Hospitality enquiries for Lakeside Pavilions contact the Horse Trials Office.
Tel: + 44 (0) 1454 218272 Email: info@badminton-horse.co.uk
LAKESIDE PAVILIONS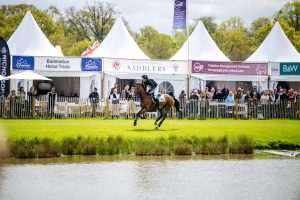 6m x 6m marquees will be positioned alongside the infamous "Badminton Lake" which is the epicentre of all the cross country action on the Saturday.
These are especially suitable for companies or private groups wishing to bring or purchase picnics.
One car pass for the appropriate day(s) will be provided (this pass will also give admission to driver and occupants and will allow vehicle to be driven to the area of the Lakeside Pavilions – weather permitting).
Each Lakeside Pavilion will be unlined and will have picket fencing around the garden area.  It will be provided with Closed-circuit television (showing the event action continuously) electricity (1 x double socket), wi-fi and Banner Rail. Additional extras, i.e. Flooring, Furniture etc. can be ordered.  Full details and prices available from the Horse Trials Office.
Our Caterers, Relish, can provide excellent picnics if required – Tel 01285 658444 (Mon – Fri – 10am – 4pm).
For Lakeside Pavillion enquiries please contact info@badminton-horse.co.uk or telephone 01454 218272 for more details.
COST
2024 Price per Lakeside Pavilion for Cross Country Day: £4,400 plus VAT;  any other one day (other than Cross Country Day): £1,485 plus VAT.  Alternatively the Lakeside Pavilion can be booked for all 5 days for £5,225 plus VAT.
Any additional car passes or admission tickets that are required are not included in the price and these will need to be purchased from the Box Office.  See Ticket Information for prices.