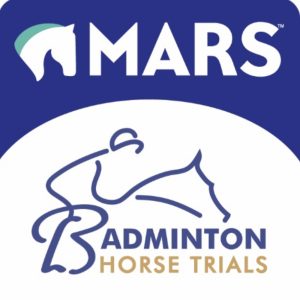 MARS EQUESTRIAN™, who have a long relationship with the Equestrian Community, are to step up to be the title sponsor of Badminton Horse Trials in 2024 having been the presenting sponsor of the event since 2020.
Mars, Incorporated, who have led the field with their iconic brands, products and services for both humans and animals for generations,  is a global business with a clear purpose that is striving towards improved sustainability and a healthy planet, on which people and pets can thrive.
"We are honoured to become one of only three title sponsors in the history of the prestigious Badminton Horse Trials" said William Clements President of Mars Equestrian. "Through this enhanced partnership, we strive to share Mars iconic brands and services as we work to achieve our vision of a better world for horses, pets, and people.
"The eventing world is lucky to have the support of such a knowledgeable and generous company as Mars, and we have already enjoyed a happy two years of their support as presenting sponsor," said Badminton Director Jane Tuckwell. "The fact that Mars wish to enhance their involvement with the Badminton Horse Trials is an honour in what will be our 75th anniversary year and we are looking forward to developing their veterinary and welfare interest in the event."
Badminton Horse Trials was started in 1949 by the 10th Duke of Beaufort on his estate in Gloucestershire to prepare riders for the Olympic Games. Great Britain are the current Olympic and European champions; this year's Badminton winners, Ros Canter and Lordships Graffalo, hold the individual European title.
The Mars Badminton Horse Trials takes place on May 8-12, 2024, and the Box Office opens on January 3rd.
About MARS EQUESTRIAN
MARS EQUESTRIAN™ Sponsorship, by Mars, Incorporated is the link between our iconic brands and the equestrian community. For generations, Mars has celebrated a rich equestrian heritage, and through purposeful partnerships, MARS EQUESTRIAN Sponsorship is committed to the sport and building an enduring legacy. From world-class competitions across all equestrian disciplines, to stewarding the power of horses on society and sustainability, the MARS EQUESTRIAN Brand is dedicated to our purpose to improve the lives of horses, pets, and the people who love them. For more information please visit www.marsequestrian.com and follow us @marsequestrian.
ABOUT MARS, INCORPORATED
Mars, Incorporated is driven by the belief that the world we want tomorrow starts with how we do business today. As a global, family-owned business, Mars is transforming, innovating, and evolving to make a positive impact on the world. Across our diverse and expanding portfolio of quality snacking, food, and pet care products and services, we employ 140,000+ dedicated Associates. With more than $47 billion in annual sales, we produce some of the world's best-loved brands including Ben's Original™, CESAR®, Cocoavia®, DOVE®, EXTRA®, KIND®, M&M's®, SNICKERS®, PEDIGREE®, ROYAL CANIN®, and WHISKAS®. We are creating A Better World for Pets through our global network of pet hospitals and diagnostic services – including AniCura, BANFIELD™, BLUEPEARL™, Linnaeus and VCA™ – using cutting edge technology to develop breakthrough programs in genetic health screening and DNA testing.
For more information about Mars, please visit www.mars.com. Join us on Facebook, Twitter, Instagram, LinkedIn and YouTube.