I know everyone (us included!) has been waiting for a while for a sponsorship announcement and we have been working hard on this so the announcement of our two Official Partners, MARS™ Equestrian and Science Supplements has given us a real boost and created a lot of interest (read our recent announcement here).
The arrival of MARS™ Equestrian should please our many dog-owning spectators. MARS™ Equestrian – which incorporates such well-known brands as Spillers and Pedigree, not to mention the chocolate bar – is a long-time supporter of horse trials.
We are delighted that Science Supplements have extended their involvement in equestrian events, and joined Badminton as an Official Partner and as Sponsor of the Science Supplement Cup (i.e. the BE90 and BE100 Championships).
Preparations for 2020 are continuing full steam. Sue Ansell, my right-hand, has been busy promoting and selling the Lakeside pavilions and thank goodness her re-location to Devon has not dampened her enthusiasm for or stalwartness of the Event! We've sent out our first newsletter and have been working on re-branding the tickets in time for the opening of the Box Office in January. Andrew and I have also been looking into a new Trophy and all will be revealed in due course.
The cross-country course has been extremely wet and I must say that I'm glad we're not trying to run the event this month! I've never walked the course with the TV production team before (see below and photo) and I found it absolutely fascinating. They've been coming for so long and are now so experienced that they can tell what is and isn't going to work with cameras even when the course is only in its embryo state.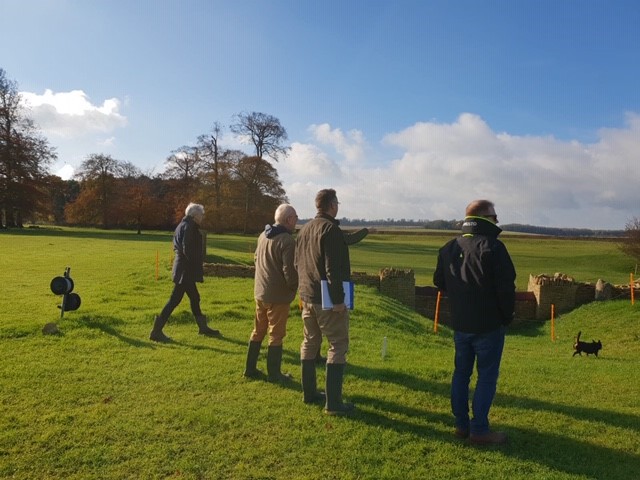 Marcin Konarski, our FEI technical delegate, came over from Poland and had dinner with myself, Eric Winter (cross country course designer) and Andrew Tucker (commercial director) at the Old Bell in Malmesbury. Simon Grundy, who will be Marcin's assistant, also came over the next day and they had their first look at Eric's course.
Andrew and I went up to London for some meetings and what we thought would be a standard day turned into something of an adventure. Coming home, we discovered all trains were cancelled so we travelled home with another in an Uber! The driver got us across London very efficiently, but as we got on to the M4, I asked – and wished I hadn't – if he had ever driven out of London before. 'It's my first time' came the answer!
With one or two hiccups we made it home, but he definitely 'tired towards the end of the course' and there was an alarming moment on the Tetbury road when he slammed on the brakes, on the wrong side of the road. Still, we've lived to tell the tale and I hope he got back to London all right…….
My next blog will come to you early in the New Year so for now, all the team and I wish everyone a very happy festive season!
Jane