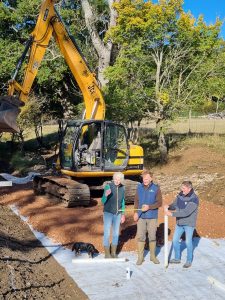 Now the mornings are getting lighter, I have been enjoying early morning rides on Paddy and some days there is a glimpse of spring in the air.
Last month, I attended the FEI Seminar which was held at Jardy in France.  The seminar covered many topics, including safety, risk management and social licence and there were interesting debates! We were lucky enough to be given a preview of the Olympic Games cross-country course site at Versailles — it will be an amazing venue.
Andrew (Tucker) recently joined me on a visit to the Hampshire plant of Bedmax, who are one of our sponsors and provide the horse bedding. We met with Tim Smalley, the Managing Director, who along with Olivia Leyland, gave us a very interesting tour. It is a very impressive set-up and I have never seen so much wood/shavings in one place!
We have all but finalised our tradestand area and welcome new and exciting exhibitors.  Sadly, we have also said goodbye to some long-term traders, but we are so grateful to them for their support over the years and wish them well going forward.
The mobile phone companies have been to do their surveys as to where their masts will be placed.  We have had several good meetings with our new wi-fi provider.
The cross country course is taking shape.  Eric Winter and the Willis Brothers have taken full advantage of this dry spell, in that the majority of fences are now in place.
The International entries are now open, a sure sign the event is getting ever closer. The Dubarry Burghley Young Event class will open by the end of the month and the Voltaire Design Grassroots Championships during March. Olivia Bush, who co-ordinates the Voltaire Design Grassroots, tells me competitors are getting in touch to discuss their plans for attending.
We are looking forward to visitors celebrating the Coronation while at Badminton, and the Lakeside Bar, the Portcullis Club and the Members Enclosure will all offer special catering to reflect the occasion on Saturday, 6th May.  We should know the Coronation timings by the time I write my next blog, so I will give details then as to how our day will roll out.
May I remind all to purchase tickets by 31st March, to take advantage of the early bird prices.  Also, as per 2022, all entry tickets must be purchased in advance, there will be no tickets available on the gate. As last year, the campsite is proving popular and has reached full capacity. And Arena Seating will start erecting the grandstands during the first week in March, so remember to book your seats!
If you wish to stay on site, and do it in real comfort, check out The Badminton Retreat, run by ex-international rider Emily Lee and husband Barny.  The exclusive glamping site is located in the heart of the action by Huntsman's Close (near the cross-country course) and provides tastefully furnished deluxe Safari tents and traditional canvas bell tents.  There is an onsite Retreat restaurant and bar, chill-out area with hot and cold tubs, top-of-the-range showers and loos, a Pamper room and much more.  Visit their website for more details: https://www.badminton-horse.co.uk/glamping/