We are delighted Susie Berry will blog about her preparations towards Badminton 2023. Fingers crossed, come May, Susie will be in the line up on Ringwood LB and, if so, she will relay her experience both during and after the event.
27 year old Susie represents Ireland but is based in Northampton where she now has her own yard,  having previously been based with Badminton winner Piggy French for 5 years.
Susie was 17th at her first Badminton last year on John Bull and went on to be placed in the top 30 at the WEG on Monbeg by Design.

Her partner Ringwood LB – Albie to his friends, is a 17h bay gelding born in 2009.   He is owned by Nick and Helen Caton.
The season opener 
Well the season started well with a trip to Poplar Park – a long trek from home, we left at 0530 for the trip to Suffolk but it was well worth it.
Albie finished 2nd in a very competitive section – a few time penalties cost us a win to non-other than World No.4 Oliver Townend riding the amazing Ballaghmor Class.
Albie is a cheeky chappy at the start of the season but is very laid back normally.  He is well behaved but he has a lot of outings at the beginning of the season to take the excitement out of him as he finds being at an event is just tooooo much.
In the last few weeks we have been schooling at Bubby Upton's and jumping lots of difficult lines.
When we go to the gallops we jump the big hedges that are alongside the gallops to keep his mind engaged. It is all a little bit unconventional for a 5* eventer but a varied work life helps keep him enthused and on the job.
Annabelle Scrimgeour helps us on the flat – she makes the trip to the yard once a week and I would work him most weeks with her but then tend not to school him much in between sessions – he gets bored doing circles!
I was a bit rusty today and annoyingly forgot to start my stopwatch for the XC!
He was good today in all 3 phases – a score in the dressage of 24.6 was great.  He is naturally good on the flat and felt well within himself today.   He followed it up with a great double clear and I am cross with myself for the time penalties.
He will have Sunday off and then recommence his fitting work on Monday. He runs again at Lincoln in 2 weeks so we will keep working on his fitness in the meantime. We need to keep up his stamina work!
He enjoys going to the water treadmill once a week, he will hack for a few days this week and then gallop on Friday. I am off to Oasby with 3 on Thursday to keep working on my fitness!
My head girl Crisy Salmon has been with me for 4 years and although we don't have favourites on the yard, Albie would be Crisy's. Crisy is very dedicated, organised and hugely energetic and we could not wish for any one better to look after the team. Crisy is a huge part of the team and she will let you know how she prepares for the great event in the next few weeks.  Crisy does all the driving as I don't have my HGV licence yet and she will do all the packing for the big event to make sure we don't leave anything at home.
I will keep you updated on our build up to the great event in the coming weeks.
Poplar result can be found here:
Susie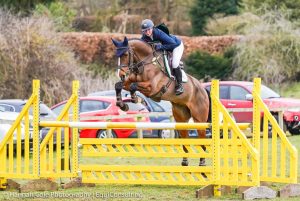 Photos by kind permission of Hannah Cole