When I started working at Badminton, pretty much the only reason the phone rang at this time of year was people wanting to know if HM The Queen was coming. Now, we're full on at this time of year, the phone rings constantly and emails (not invented in those days!) are even busier.
More and more people are coming to the office and we're getting early interest from the overseas federations planning to send riders. All that, combined with the fact that the mornings are, thank goodness, becoming steadily lighter – I've been able to go out for some lovely rides on my horse Paddy before coming to work – means that Spring and the event feels really tangible now.
Vicky Candy, whose first year it is full time in the office, is generally the cheerful voice people first hear on the end of the phone – she is part of the team looking after the tradestand admin. Vicky, Alex Harbottle, who does the figures, and Pam Twissell, without whom no one would receive a pass, are the backbone of the event: the three of them, together with Sue Ansell, are the glue that binds the admin together backstage.
Like everywhere else, the ground at Badminton is wet which doesn't make life easy for our course-building team, Willis Bros, but the building of the course is well under way and we've managed to do the first viewing for the crosscountryapp.com map that will be available in April .
Course designer Eric Winter with Jill Martin from crosscountryapp.com in below image (click here to see last year's interactive course).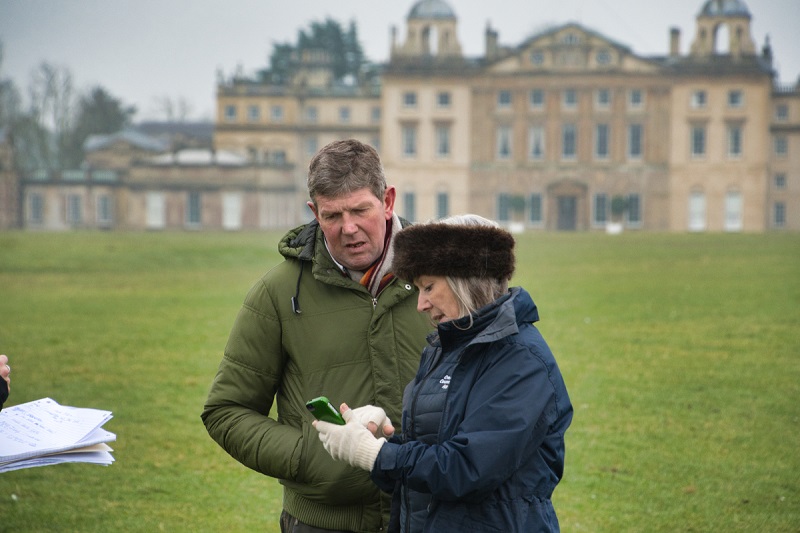 A lot of winter maintenance has been happening – painting white stakes, mending programme boxes, work in the stables – plus putting in fibre extensions (a bigger area will be covered this year). We're very pleased to have on board the sponsors for 2020 but it is still work in progress and are looking to have a title or two further partners in place for 2021. The Science Supplements Cup is also taking shape and we have had a good meeting with their team.
Below image: The Science Supplements Cup course build is underway.
Plans for the new trophy are taking shape and it's exciting watching that develop. We've invited some Chelsea Pensioners to attend on VE day (Friday, May 8) and there will be a minute's silence at 11am. We're also going to have much more activity in the Chat Zone, with an extended programme.
I've been continuing my visits to other major sporting venues: Andrew and I went to Wimbledon, which feels quite strange without the crowds, on a fact-finding mission to find out how they do things. We met Mick Desmond, who is the Commercial and Media Director, and Paul Davies, the Head of Broadcast and Production, who couldn't have been kinder.
Like Badminton it's a huge operation and, especially at this time of year, the difference between a permanent site on hard standing and our greenfield site is quite marked. It was so clean and dry, I was envious! However, once you take out the obvious difference in sport, there is a golden thread that binds all these big occasions.
I've also been to Aintree for the FEI Risk Management Seminar – a weekend of intense and fascinating discussion with nearly 150 people and more than 20 nations represented; people had come over from Australia, New Zealand, South Africa and Canada just for the weekend. I travelled back on the train with Sue Baxter, a regular ground jury member at Badminton, and it was great to catch up.
There were fascinating presentations on such topics as fence design, the role of the ground jury and how the British Horseracing Authority tries to engage with the public and the media. If I came away with anything, it was that we must keep things simple.
I took part in a group discussion (below group photo) about the future of the sport in which it was agreed that eventing must evolve to stay in the Olympic movement, but that should not mean that it becomes diluted at the top (five-star) level.
People often don't realise that Badminton, Burghley and Kentucky are more than just horse trials – they're major sporting events within themselves and the spectators that come through the gate should never be undervalued.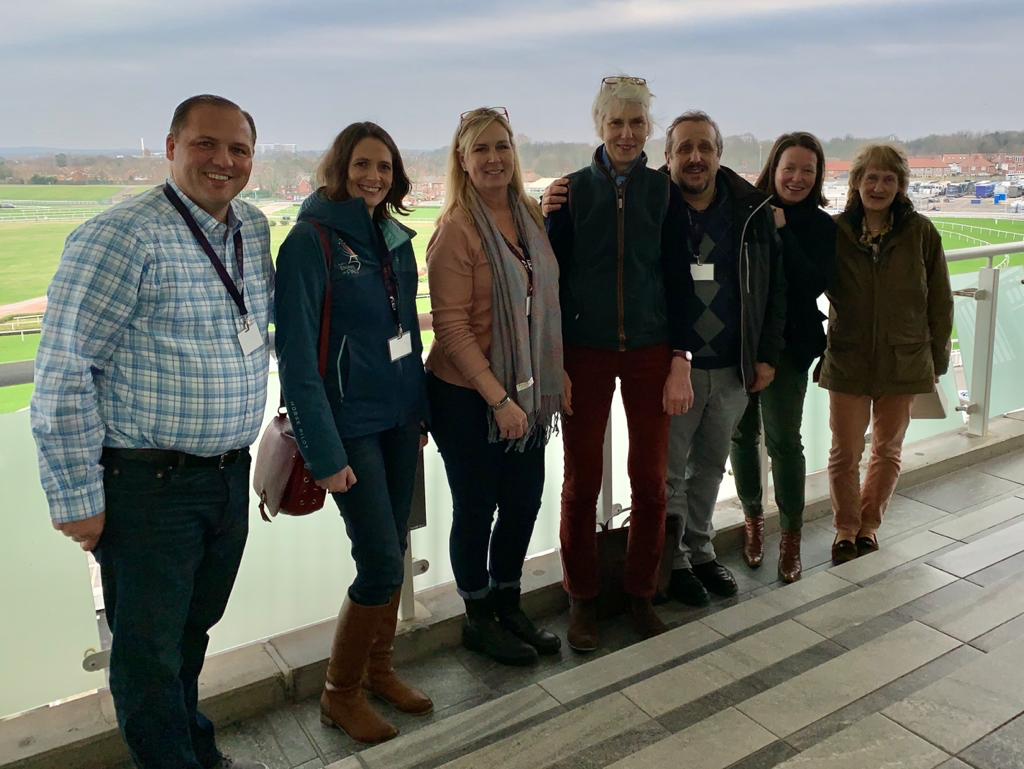 Cick on the image below to read Jane's previous blog post: