Your favourite Badminton Moments from the last 25 years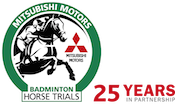 Some very special moments of sporting history have been made at Badminton over the last 25 years with the loyal support of Mitsubishi Motors. In the build up to the 2016 event we looked back over some of our top ten all-time favourite memories to celebrate the fantastic contribution they have made.
Mark Todd's famous cross country round that he completed with one stirrup on Bertie Blunt in 1995  won the day but you can still replay some vintage highlights from the Badminton archives and choose your own.
Visit the current leaderboard.